Burlesque on Hooks &
The Art of Flesh Hook Suspension
NOT FOR THE FAINT OF HEART!
As seen on France Has Got Talent, this is the most extreme act performed by Ms. Marquise, and her signature act! Performed around the world for an array of audiences! This Suspension Starlet does a classic 1940's Burlesque striptease suspended in the air while hanging from flesh hooks in her back! This act is special and like no other. Filmed by Documentaries and feature length films! Marquise is the ONLY performer in the world who does an entire Burlesque striptease in the air on hooks! Book this unique and jaw dropping act now!
Fire Eating
A classic favorite in Sideshow history, the beauty of Fire Eating! An act originating from the circus sideshow and middle east, Marlo puts her own glamorous spin on the art of fire performance. Watch as she holds single flames on her lips, tongue, hips and finger tips! This act can also be paired with elements of classic Burlesque striptease if your event is PG-13!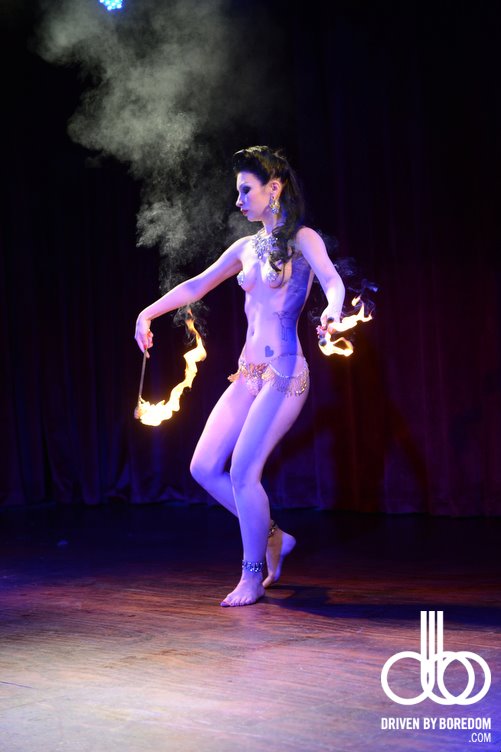 Stairway to Machetes
One of the sharpest acts in the repertoire of Marlo Marquise! A fun and daring act ! Watch as she climbs up this one of a kind prop housing not 2, not 3, but 10 REAL MACHETES ! After the first 7 blades, it only gets more dangerous with a small platform of 3 machetes to lay on.... see how the pint size showgirl survives without a scratch! This prop is exclusive to Marlo Marquise Inc. It's debut was in July 2013.
La Femelle Fakir
NOT FOR THE FAINT OF HEART!
Channeling the cultural stylings of a femme Fakir, Marquise skewers herself with up to five 8 and 10gauge skewers without showing one moment of pain.
Sacre Coeur
The Madonna Marquise
A controversial ode to one of the strongest female icons in religious history The Madonna, challenging your ideals with sexuality, blood, and fire. Marlo Marquise embodies a glammed up version of this historical character complete with The Immaculate Heart of Mary on her chest with skewers placed in her skin representing the iconic swords, and needles in her forehead representing the Crown of Thorns. This act is an experience to say the least, and will leave you in awe.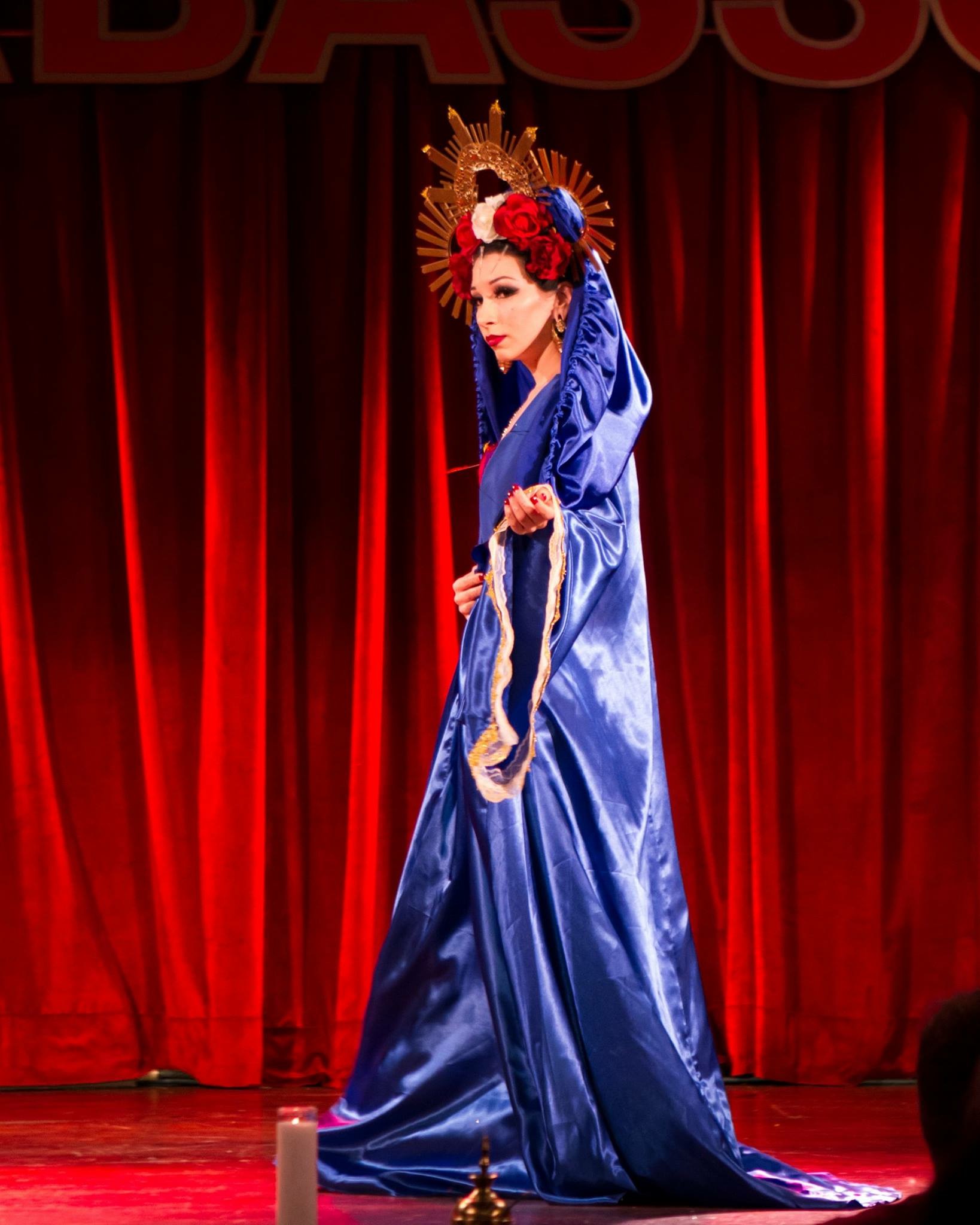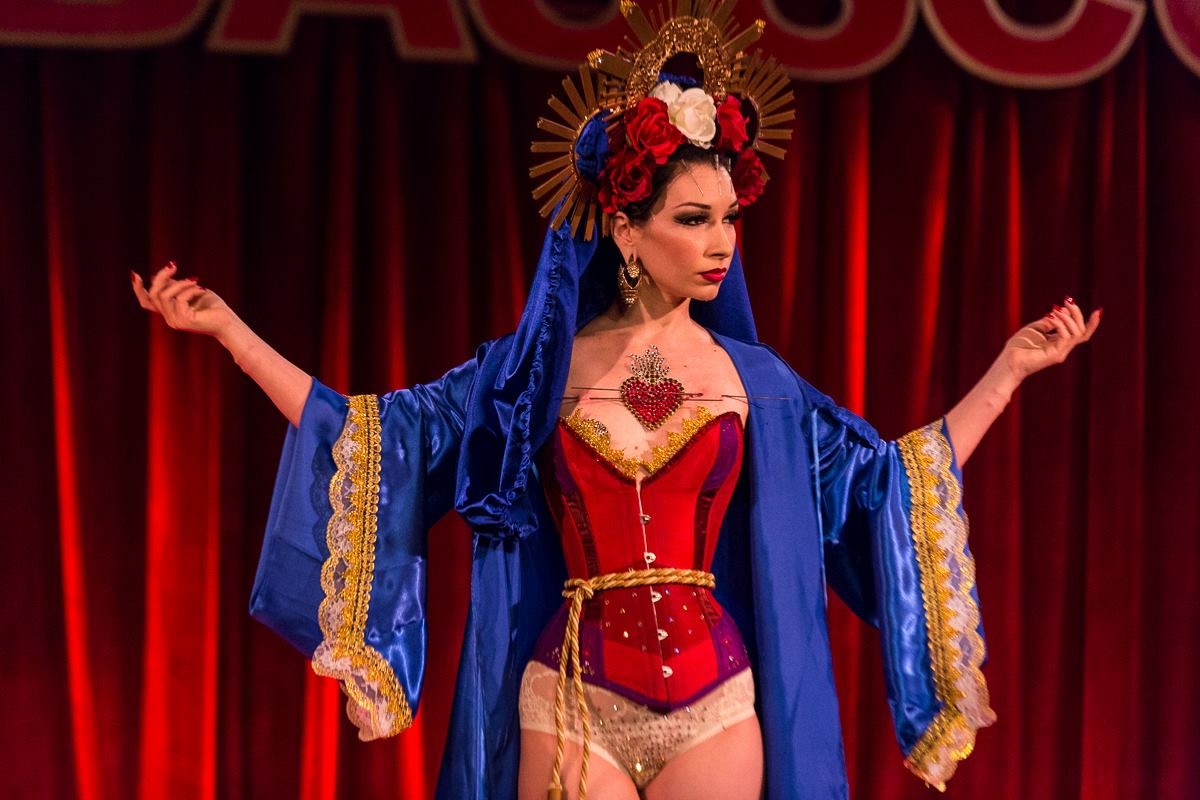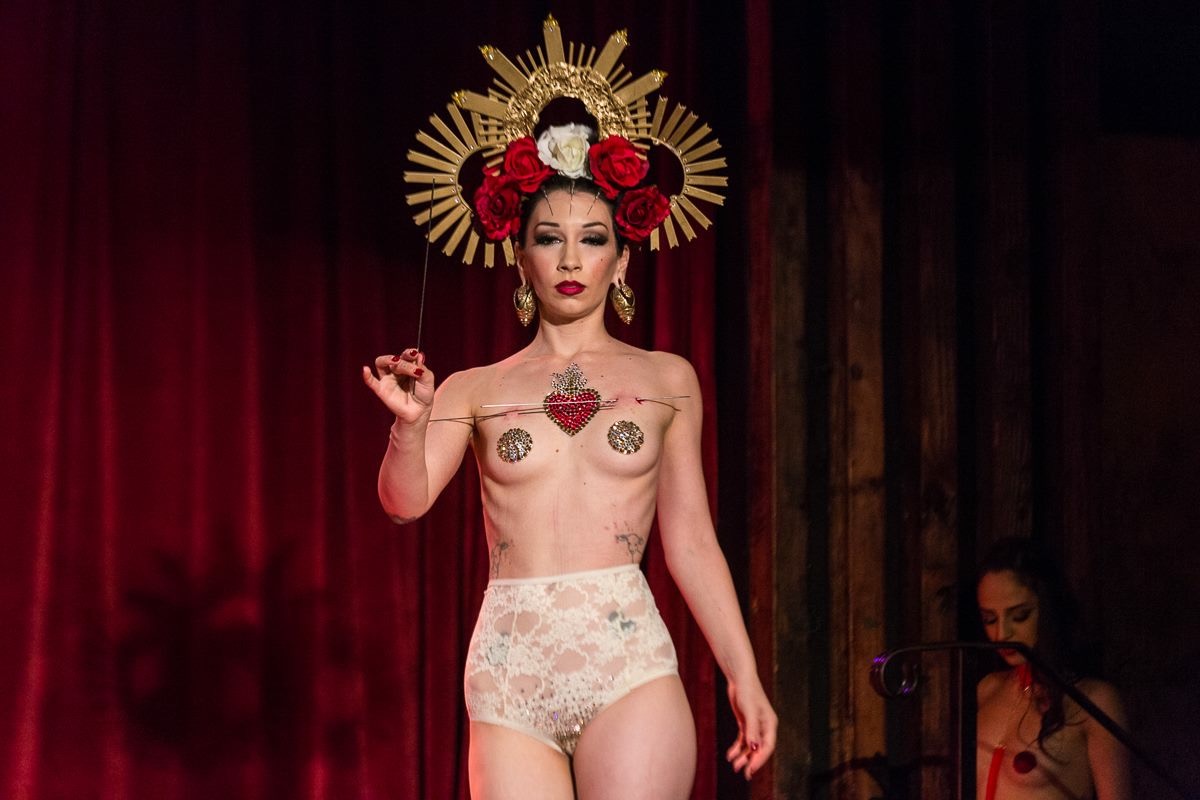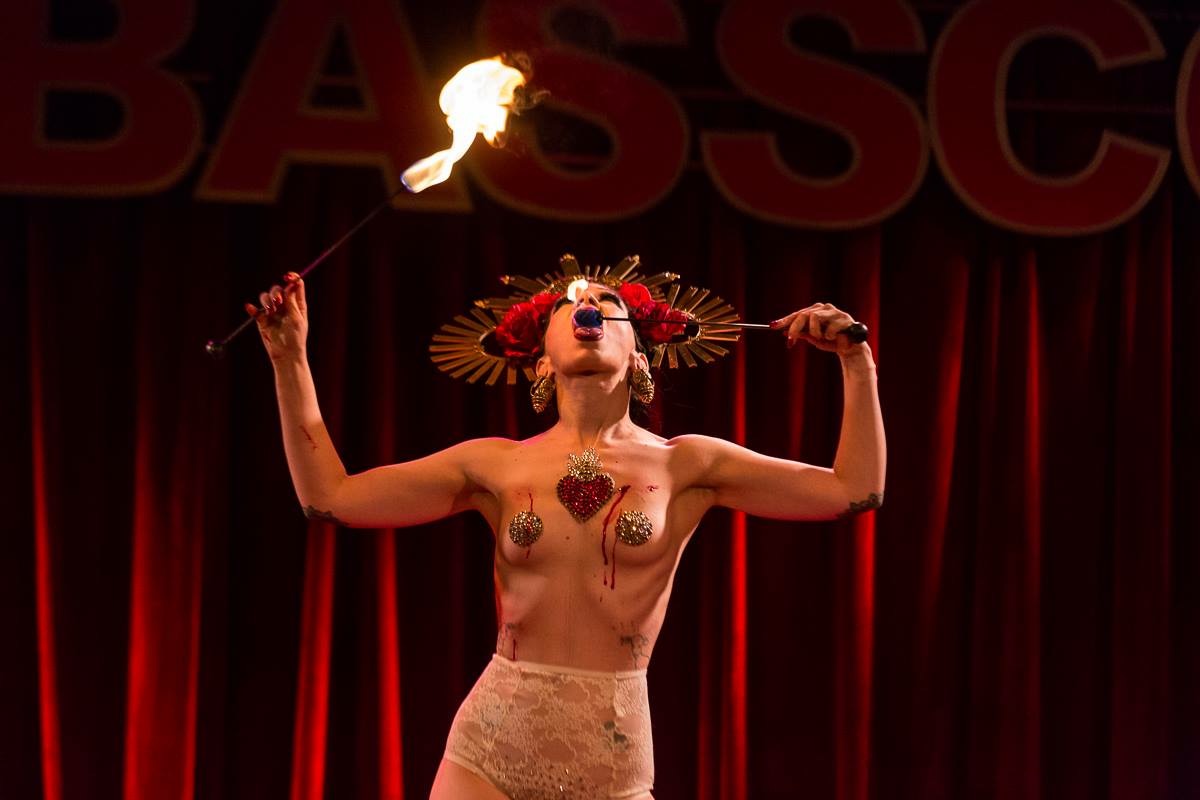 Beauty on a Bed of Broken Glass
A tale of titillating toes! Glass walking originated from meditative hot coal walking. Marquise tips her hat to an old sideshow stunt as she tip toes across a bed of glass only to then lie down in it, rise up on her shoulders in classic pinup poses, and ends with contortion style poses on her bare stomach!
One Woman Circus Sideshow
Circus themed performance featuring Burlesque, Human Pin Cushion, Glass Walking AND Fire all in one act, with Life size Jack in the Box! This prop is exclusive to Marlo Marquise Inc. It's debut was in November 2012.
Fire Eating Heel Fetish
(Only upon special request- limited)